---
Support Randy's Rodeo!

Shop at Amazon, iTunes, and more...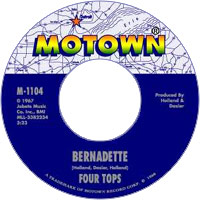 Collecting Motown. Motown was about singles, not albums. Despite a handful of very notable exceptions (albums such as Marvin Gaye's What's Going On, or Stevie Wonder's unmatched string of masterpieces in the 1970's), what distinguished Motown were the singles - thousands of them, on subsidiary labels like Tamla, Gordy, Soul, and VIP, as well as Motown Records proper. An enormous percentage of these platters made the charts, and they form the heart and soul of the label's legacy.

Motown came of age in the early 60's, when singles were the primary medium for pop music, as an art form and as product. Albums, conversely, were an afterthought in terms of both production and repertoire. Most albums (at Motown and elsewhere) consisted of a couple of singles and a bunch of filler - second-rate songs and covers of current hits or standards - or they were thematic productions, such as The Soulful Moods of Marvin Gaye (1961), Stevie Wonder's Tribute To Uncle Ray (1962), or The Supremes Sing Rodgers and Hart (1967), aimed at filling a niche market.

Moreover, until the late 60's, Motown singles were often different - and almost always better - mixes than the album versions of the same songs. Sometimes, the singles were different takes altogether. Producers would sweat over the mono single mixes till they leapt from the speakers, whereas the stereo album mixes were often relegated to engineers and interns. Motown would change with the times - producing such long-playing delights as the Temptations' Psychedelic Shack (1970) - but the label's fortunes always remained singles-driven.
The Series

Anthology (1985)

Four Tops
Marvin Gaye
Jackson 5
Michael Jackson (solo)
Gladys Knight & The Pips
Smokey Robinson & The Miracles
Diana Ross (solo)
Diana Ross & The Supremes
Temptations

These discs adapted Motown's mid-70's Anthology multi-LP sets to CD. The Michael Jackson and Diana Ross solo sets were new additions to the series, but the original Marvelettes, Mary Wells, and Stevie Wonder volumes were skipped.

Hard-To-Find Motown Classics (1986)

These three discs - packed with bona fide hit singles by Motown lesser-lights like Edwin Starr, the Contours, and Brenda Holloway - form a perfect companion to the Anthology series (right). Were it not for those aforementioned missing volumes (Marvelettes, Mary Wells, Stevie Wonder), life would have been sweet indeed. The first two Hard-To-Find volumes have 20 songs each, while the third swells to 25.

The Best Of... (1991)

Thelma Houston
Valerie Simpson
Supremes & Four Tops (duets)
Switch
Undisputed Truth

These discs spotlight overlooked artists - Motown's first stab at digging deeply into their catalog. Generous (roughly 20 tracks each), intelligently selected, but with spotty mastering, no-frills packaging, and minimal annotation.

Greatest Hits & Rare Classics (1991)

Brenda Holloway
Isley Brothers
Jermaine Jackson
Rare Earth
Supremes (70's recordings)
Kim Weston

There's no real difference between this series and its companion (left) released the same year. Same concept, same look, different title.

The Singles (2-CD, 1993)

Marvelettes
Martha Reeves & The Vandellas
Junior Walker & the All-Stars
Mary Wells

These deluxe sets (two discs and book in a slipcase) represent Motown's best-ever CD packages on their second-tier acts (sadly ignoring Gladys Knight & The Pips). That is, these artists cranked out a lot of hits but never rose to the level of superstars like the Supremes or the Temptations. The series was a loose one: each volume had a somewhat distinctive look and an individual title, e.g. the Marvelettes' Deliver: The Singles 1961-1971. Mary Wells' installment, Looking Back 1961-1964 (above), doesn't even bear the "Singles" subtitle.

Milestones (1995)

Martha & The Vandellas
Teena Marie
Marvelettes
Undisputed Truth
Motown's Leading Ladies
Motown Love Songs
Motown Meets The Beatles

If The Singles, was a step in the right direction, Milestones was a step backward - four seemingly random acts and a couple of nondescript various artist compilations, and as few as as 10 tracks per disc (on the Teena Marie collection). But, kudos for Motown Meets The Beatles. My life got a lot better after hearing Edwin Starr chug through "My Sweet Lord" and Marvin Gaye float through "Yesterday."

Anthology Series (1995)

Commodores
Marvin Gaye
Michael Jackson
Gladys Knight & The Pips
Rare Earth
Smokey Robinson & The Miracles
Diana Ross & The Supremes
Temptations
Temptations (solo recordings)
Grover Washington Jr.

Like The Singles series (above), these double-disc sets were pretty deluxe, doing justice to the original, 20-year-old Anthology LP series. But in a now-familiar pattern, the roster seemed almost random. White rockers Rare Earth and smooth jazzbo Grover Washington, but no Four Tops or Stevie Wonder?

Funkology (1995)

Volume 1: Got To Give It Up
Volume 2: Behind The Groove
Volume 3: Dance Divas

Spurred by a brief mid-90's retro-funk fad that produced such stellar products as Rhino's In Yo' Face series, Motown finally presented its heavy-duty funk (and a little disco) as part of its legitimate legacy. Altogether, Funkology is a nice mix of obvious classics (like the Commodores' "Brick House") and rarities, including forgotten hits (like Ozone's "Strutt My Thang") and hard-to-find 12-inch mixes of funk milestones (like the Dazz Band's "Let It Whip"). Sadly, Motown allowed the Funkology series to quickly fall out-of-print.

Ultimate Collection (1997)

Commodores
DeBarge
Jackson 5 (1996)
Rick James
Smokey Robinson
Diana Ross (1994)
Temptations
Temptations (reissued)

This Ultimate Collection series (as opposed to the more comprehensive 1998 series below) focuses primarily on Motown's 70's output, including later artists (Commodores, Rick James) and solo sides from "Golden Decade" alumni (Smokey Robinson, Diana Ross). The J5 and Ross volumes were issued earlier with a different design, but they were marketed as part of the series once it was underway.

Very Best Of... (1998)

Willie Hutch
Edwin Starr
Rare Earth

Back in 1998, I ran a record store. And yet, I didn't discover these CD's until I was researching this article (nearly 10 years later). Why? Well, Willie Hutch is best remembered for his Foxy Brown blaxploitation soundtrack, which is available separately. Edwin Starr, known mainly for "War" (as in, what is it good for?), is also obscure - though undeservedly so. And, this is (at least) the third iteration on CD of Rare Earth's dubious hits. For whatever reason, Motown dropped the concept after just three volumes - then resumed it with a new design the next year (below).

Ultimate Collection (1998)

Four Tops
Eddie Kendricks
Gladys Knight & The Pips
Marvelettes
Martha Reeves & The Vandellas
Smokey Robinson & The Miracles
Diana Ross & The Supremes
David Ruffin
Junior Walker & The All-Stars
Mary Wells

This second Ultimate Collection series is the closest Motown ever came to a creating a definitive library. Regardless, one measly CD (or even two) can't hold all the hits by top acts like the Miracles. Who's missing? Marvin Gaye and Stevie Wonder (always anomalous with their prodigious 70's output), plus the Jackson 5 and Temptations (who released Ultimate Collections during the earlier series).

Very Best Of... (1999)

The Contours
Brenda Holloway
The Originals
The Velvelettes

Another excellent, abbreviated series, similar in name and intent (but not design) as the one detailed above. In addition to Brenda Holloway - Motown's most underappreciated siren - the label highlights three heretofore overlooked groups, all of whom charted several hits. There's the raucous Contours, whose famous "Do You Love Me" is matched by lesser-known gems like "Shake Sherry." The Originals, to the contrary, waxed sweet with latter-day doo wop like "Baby I'm For Real" and "The Bells." Finally, the sassy Velvelettes ("Needle In A Haystack") bridged the gap between girl groups and soul.

Lost & Found

Breaking Through (Four Tops, 1999)
Lost Without You (Four Tops, 2006)
Love Starved Heart (Marvin Gaye, 1999)
Spellbound (Martha & The Vandellas, 2005)
Along Came Love (Miracles, 1999)
Let the Music Play (Supremes, 2008)
You've Got to Earn It (Temptations, 1999)
Something New (Mary Wells, 2012)

Mostly unreleased, these tracks are clearly intended for collectors. The series was launched by Motown in 1999, then picked up by Hip-O Select in 2005.

Tamla Motown Big Hits & Hard To Find Classics

Volume 1 (2000)
Volume 2 (2000)
Volume 3 (2000)
Volume 4 (2002)

These imported discs almost duplicate Motown's excellent, long out-of-print domestic series, Hard-To-Find Motown Classics (see above). The first three volumes stick to the concept - genuine hits by lesser artists - while the fourth strays into the "rare and unreleased" territory so beloved by the Brits.

Cellarful Of Motown!

Volume 1 (2002)
Volume 2 (2005)
Volume 3 (2007)
Volume 4 (2010)

If the Lost & Found series was esoteric, Cellarful was downright obscure. Not only had none of these songs ever been released, some of the artists never formally released anything for Motown. That said, the quality of the songs and performances is pretty amazing, speaking to the incredible depth of talent residing on West Grand Boulevard in Detroit, Michigan. After the first volume, this series has been released only in Europe.

20th Century Masters

Funk Brothers (2004)
Jimmy Ruffin (2001)
Barrett Strong (2003)

At last count, nearly a hundred Motown 20th Century Masters existed. Only three of them touch bases not covered better elsewhere (at least among American releases). Barrett Strong had just one pop hit ("Money"), and most people never heard of the Funk Brothers until Standing In The Shadows Of Motown (2002). But, Jimmy Ruffin cranked out several hits, so his presence on this list is perplexing.

Gold

Commodores (2008)
Marvin Gaye (2005)
Jackson 5 (2005)
Michael Jackson (2008)
Rick James (2005)
Gladys Knight & The Pips (2006)
Martha & The Vandellas (2006)
Miracles (2006)
Lionel Richie (2006)
Supremes (2005)
Temptations (2005)
Motown Classics (2005)
More Motown Classics (2007)

Like the 20th Century Masters discs (above), these 2-CD packages are part of a large, generic Universal series. But, the Gold series is much better - more complete and a better value. Some are cross-licensed, picking up non-Motown hits (e.g. Gladys Knight).

The #1's (2007)

Marvin Gaye
Jackson 5
Diana Ross & The Supremes
Temptations
Stevie Wonder
Motown #1's
Motown #1's Volume 2
Complete Motown #1's Box (2008)

Awesome stuff, if very limited in scope. Once again, these volumes are part of a larger Universal Music series (following the lead of Elvis and the Beatles). The Supremes disc was originally put out in 2004, then reissued when the broader series was launched. The Jackson 5 set is cross-licensed. Annoyingly, all volumes are housed in "eco-friendly" packaging - Universal's way of cheating us out of liner notes, which they claim are "easily accessible" online.

The Definitive Collection (2008)

DeBarge
Four Tops
Michael Jackson (2009)
Rick James (2006)
Gladys Knight & The Pips
Marvelettes
Miracles
Martha Reeves & The Vandellas
Lionel Richie
Smokey Robinson (2005)
Diana Ross (2006)
Supremes
Temptations
Junior Walker & The All-Stars
Mary Wells
Stevie Wonder (2002)

Even as the era of the compact disc seemed to be sputtering to an ignoble end, Motown took another stab at catalog exploitation. Like 20th Century Masters, Gold, and The #1's, the Definitive Collection series is part of a much larger series - this one consisting of single discs about 20-tracks in length. Sometimes, this one lives up to it's name, but it remains an incomplete picture of Motown's broad stable of talent. (Most - but not all - volumes came out in 2008 and share a similar graphic design.)

Motown Unreleased

1962: Girls (2012)
1962: Guys Vol. 1 (2012)
1962: Guys Vol. 2 (2012)
1962: Gospel (2012)
1962: Jazz Vol. 1 (2012)
1962: Jazz Vol. 2 (2012)
1963 (2013)
1964 (2014)
1965 (2015)
1965: Marvin Gaye (2015)
1966 (2016)

Much later, Motown began an open-ended series of digital-only releases to prevent previously unreleased music from falling into the public domain in Europe. Economics makes strange bedfellows, I suppose, but collectors rejoice! [top of page]

Boxed Sets
Motown entered the boxed set sweepstakes in 1992 with Hitsville USA, a 4-CD selection of obvious (if wonderful) hits. What really matters are the seven boxed sets that followed from their major artists - all indispensable. The Holland Dozier Holland box (on Hip-O) includes later hits from that troika's Invictus and Hotwax labels; it was trumped a decade later by The Complete 45s Collection on UK label Harmless, which swelled to 14 discs. [top of page]
The Hip-O Boxes: The Complete Motown Singles

Depending on one's perspective, The Complete Motown Singles boxed sets are either too much music, too much money, or a dream come true - or all of the above. The series compiles every Motown single (both a- and b-sides) released from the beginning through 1972, when the company packed up and fled Detroit for Los Angeles. The downside for completists? Motown had plenty of gas left in 1973, so the series will not include songs as great as Marvin Gaye's "Let's Get It On" (1973) or the Jackson Five's "Dancing Machine" (1974), let alone funk and disco smashes by the Commodores or Rick James.

The label, Hip-O Select, is a web-only adjunct of Universal's reissue department - though the boxes are available through retailers like Amazon. Also see the label's 2006 4-CD box, Motortown Revue: 40th Anniversary Collection, and the 2010 collection called Motown Around the World: The Classic Singles - famous songs sung in foreign languages! Since then, the label has released dozens of more focused singles compilations and expanded LP reissued - take a look. [top of page]

Selected Domestic Collections
As the 21st century rolled around, Motown largely ceased compiling the readily identifiable series that had been their hallmark since the original "Anthology" LP series back in the 70's. Rather, they focused on the 20th Century Masters and Gold series mentioned above. But, they inaugurated a wonderful string of stand-alone anthologies and, later, began issuing some remarkably in-depth collections through Hip-O Select. Most of these albums fall into that loose category, though only a few tread unfamiliar ground. Most are multi-disc packages. [top of page]

Finally, it's worth noting that, well into the 21st century, Motown began releasing digital-only collections called Motown Unreleased organized . Though similar to their earlier Lost & Found and Cellarful Of Motown series, these albums had an ulterior motive: to trump a European law placing all unreleased music in the public domain 50 years after its creation. For once, copyright laws worked in favor of collectors!

Selected Imported Collections
As mentioned above, Motown/Tamla is a subject of intense veneration overseas, and hundreds of import-only discs exist. Happily, this Motown mania has yielded extensive collections for some of the label's lesser-known artists - including those who had just one significant hit (Chris Clark, Barbara Randolph), and even some who had no hits for the label whatsoever (Barbara McNair, Chuck Jackson). Plus, some of these discs (for instance, the Thelma Houston CD) replace long out-of-print American reissues, some of which now fetch high prices among collectors. [top of page]