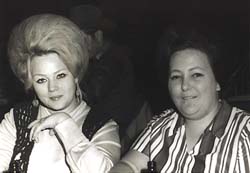 Randy's Rodeo is named after a nightclub in San Antonio, Texas, where the Sex Pistols played one of their few American gigs. After founding the website, I became curious about the club's murky genesis. I had first learned about the Randy's when I came across an old photo in an Austin thrift shop - the kind of snapshot that nightclubs used to hawk as souvenirs. The photo jacket (top) touted Randy's as "the finest western dance hall and night club in San Antonio," and the beehived barflies in the picture (left) radiated a wary willingness that spoke to both my prurient interests and my innate curiosity about human nature.
Later, of course, I learned about Randy's connection to the Sex Pistol's infamous, one-and-only American tour - the road trip from hell that gave the movie "Sid & Nancy" many of its finest moments. (Click here to view a detailed history of the performance and the tour.) As a teenager, I had missed out on what turned out to be a once-in-a-lifetime opportunity to see the Pistols at Dallas' Longhorn Ballroom on January 10, 1978. It was a lot easier to sneak into bars back then - sneaking out of the house was harder, actually - and I still regret my lack of will and foresight. Regardless, the San Antonio gig happened just two days before, and by all accounts, it was an incendiary, chaotic highlight of the tour. Johnny Moped, a punk rock historian, describes the Pistol's gig at Randy's thus:
The band arrive in San Antonio to play Randy's Rodeo, a ballroom that has sold out its 2,200 capacity. As soon as the band take the stage, they are pelted with beer cans, hot dogs and popcorn. Vicious tells the crowd, "You cowboys are all a bunch of f---ing faggots!" When a young cowboy tries physical retaliation, Vicious hits him with his bass. The show is stopped for several minutes while the cowboy is taken away by police. He later denounces the Pistols as "sewer rats with guitars" on TV.
Margaret Moser, an Austin Chronicle founder and staffer, was at the Randy's Rodeo Sex Pistol's show (click here to read her personal account) as well as other punk shows Randy's subsequently hosted. To her recollection, Randy's Rodeo had been almost exclusively a country bar," a real cowboy joint with real cowboys." The club had a simple floor plan - one big room with the stage set on the far wall from the door. According to Moser, the show was actually underwhelming - more a circus than a concert - but it had a far-reaching impact, kick starting Austin's now renowned music scene. Steve Earle, for one, credits the experience (peripherally, at least) as a major inspiration in a Rolling Stone interview with David Fricke:
I missed the punk thing when it started. I was living in Mexico. But I was up in Austin, staying with a friend, and someone said the Sex Pistols were playing at Randy's Rodeo in San Antonio, which was a block from where I grew up. I rode with them, and it was an awful gig. Sid Vicious got hit with a bottle in the second song. He just staggered around and bled for the rest of the night. But on that same trip, I went by the house of another friend in Austin, and he said, "You gotta hear this." It was My Aim Is True by Elvis Costello. I went, "OK, now I know why I need an electric guitar."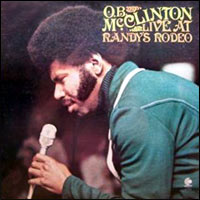 When scouring the web, though, I discovered very little else about the club beyond its uncharacteristically controversial moment in the spotlight. Though I've pieced together a number of factual tidbits (many from links now broken), I've never figured out exactly when the club was founded, and the only thing I've learned about the owner is his name - Randy Sherwood. The earliest mention I could dig up was on a message board (link defunct) where the author of a posting makes the claim to have played there in 1970. However, another Sex Pistols' history describes Randy's as a "former bowling alley," and this was confirmed via email by Kerry Peyton, a visitor to this website:
Randy's Rodeo was indeed built originally as a bowling alley. I spent many late evenings there as a very young teen, hanging out with all the slick-haired Fonzy's. It wasn't until my late teens that they renovated it and changed it into a Western dance hall. That would have been in the late 60's. I lived across Bandera Highway (State Highway 16) from the place.

Back then there wasn't much to do around there, and when "Bandera Bowl" was built and opened, it was like a godsend to us young bored kids. Not sure whether the place kept us out of trouble or got us into it. In fact, we were a bit resentful when it became a concert hall, then a country and western dance hall, then a Tejano joint, then a mixed music club, and finally went back to Country.

There wasn't anything else around there for years when I was growing up, and I can still remember the hoots, hollers, and singing wafting across the woods in that relatively silent area of San Antonio. The business and traffic that Randy's Rodeo generated was probably instrumental in getting some of the dirt roads in the area finally paved. Bandera Highway itself was only a two-lane, no-shoulder paved road at the time. (7/8/02)
Another email (1/25/03) from another reader (a certain Diane, who admitted "spent many Saturday nights boot-scooting across that dance floor") actually identified the bar girls in my iconographic picture (above). "The blonde's name was C.C. and her friend was Martha (at least, I think... something that started with an 'M'). Anyway, this photo was probably taken around 1966." Diane went on to confirm Randy's origins as a bowling alley (Bandera Bowling Lanes, according to her), and recalled that a number of big names played there after it was converted to into a country and western dance hall. In addition, local talent like George Chambers and the Country Gentleman also graced the stage at Randy's Rodeo.
Diane recommended that I write to Don Strange to learn more about this period. Mr. Strange currently owns a catering business located across from the present-day Randy's Rodeo; back in the 60's, though, his business was barbecue, and he operated a rib joint of some renown on the same spot. Concerning the Bandera bowling alley, Don added that, "The bowling alley was built to be world-class, and it earned some national exposure. But the caliche-laden soil - along with the heat - caused the ground to shift, and the lanes never remained even. Our walls were always cracking and we eventually had to tear our building down and build a newer bigger one." Hence, the bowling alley failed, setting the stage for Randy's Rodeo.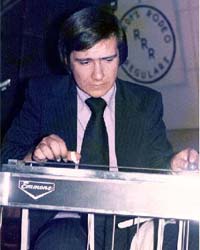 A photo (left) on Jim Loessberg's Pedal Steel Guitar Site picks up the Randy's story in 1972. Note the "Randy's Rodeo Regulars" seal behind Rick Price, a member of Johnny Bush's touring band. Buddy Rich fan Mark Overstreet recounts seeing the legendary jazz drummer at Randy's in 1972, and a message board visitor claims to have been the first western dance instructor in San Antonio - every Thursday night at Randy's Rodeo (circa mid-70's). AYet another
In 1973, soul singer O.B. McClinton released an album, Live At Randy's Rodeo (photo above), on Enterprise Records, a Stax subsidiary - presumably recorded about the same time. McClinton, a minor figure at best, is best remembered for writing "You've Got My Mind Messed Up," one of James Carr's better songs, as well as tracks by Arthur Conley, Clarence Carter, Denise LaSalle, and the Staple Singers.
Yet another reader, Mark Gierth, writes about a close encounter he had at Randy's Rodeo in 1976. Mark's father owned a rock and roll club called Charlie's Quarter Place in Universal City (just east of San Antonio). He did a lot of advertising on a radio station called KISS-FM, a hard rock outlet at the center of San Antonio's thriving heavy metal community. One of the DJs, Lou Roney, was tight with Mark's father:
Lou told my dad about a Canadian band that needed a place to play in San Antonio, so Lou and my dad co-promoted the band at Randy's Rodeo. The band was, of course, Rush! The night of the show, so many people came out that there was a near riot outside, and the show went on great. My brother, myself, my dad, and Lou all went with Rush to a pizza place, smoked dope, some did coke, ate pizza, and played a few pinball and video games. Video games were rather scarce back then, but Neil Pert and I played a few together. Since then, my father and brother have kept in contact with them, and we are going again to see them this year. My brother still has his tickets from that show - $4.50 each! (4/29/02)
And, that's about it for the history of Randy's Rodeo - pre-Sex Pistols, at any rate. Apparently, the club took a a sharp left turn after that watershed event. Margaret Moser recalls that, prior to the Pistols' show, Randy's booked mainly country & western acts, but thereafter hosted more rock shows. Squeeze played there in June, 1978 (just months after the Sex Pistols' show), and the Ramones blitzed Randy's stage in 1979. Reader Eric Nordin recalls:
I was at the Ramones' show at Randy's Rodeo in 1979. My sister and I were invited back after the show for a beer-and-pizza bash, and we were photographed by a local newspaper. I was wearing a cut-off black Ramones t-shirt!. At the time, I was in a band called Smash Left, and we did some Ramones' cover tunes. We were said to do the best Ramones covers of any local band in San Antonio. (8/9/90)
Jim Loessberg, a steel guitar player and enthusiast (see above), saw this page and wrote in, adding this fascinating tidbit:
In the early 1980's, Randy's Rodeo was briefly renamed "Whiskey River." Randy was partnered in the venture with Johnny Bush - the country singer who wrote and first recorded the song of the same name. It lasted a few weeks. I was the steel player in the house band, and I remember Willie Nelson (who later made "Whiskey River" his signature) and Asleep at the Wheel being the only "name" acts to be brought in during the club's brief tenure under that name. (11/25/02)
Another website quotes a San Antonio Express-News story about U2 playing to a small crowd at the venue on Valentine's Day, 1982, before they made it big in America (Moser attended that show, too). However, by the time of the U2 gig (by all accounts, another significant event for the Central Texas punk scene), the club had been renamed Cardi's and was presumably under new ownership. Moser remembers Cardi's as a fairly sleazy chain of 80's daiquiri bars. I found little else about the club's post-Pistols, rock-oriented period, though, until I found a web page that lists Randy's Rodeo on the 1999 tour itinerary of Slipknot and Coal Chamber. Gregg Allman also played there about the same time.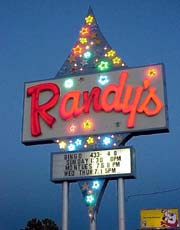 At some point, the club came roaring back to life as Randy's Ballroom - same sign, different audience. Now, Randy's is one of the premier Tejano showplaces in Texas. Selena played there in 1994, and Intocable and La Firma both list Randy's on their resume. The club (in photo, left) also hosts a variety of other events - including bingo (what would Johnny Rotten say?) - and is located at 1534 Bandera Road, San Antonio, TX, 78228, (210) 434-6266.
Still, at this point, the Sex Pistols gig would seem to be Randy's most credible claim to fame. The web is peppered with references to and descriptions of the event, and I have found numerous photographs of the actual show - Randy's Rodeo logo visible in many. Click here to read more and see the pictures.
By the way, there was a Randy's Rodeo in New Jersey; it could still be there for all I know. I can only assume that it was named after (but has it has no other relation to) the Texas club due to the Sex Pistols' notoriety. A Beastie Boys show recorded at the Jersey club is very popular among bootleg traders....
If anyone reading this has anecdotes or information about Randy's Rodeo, I'd love to hear from you. I'll add your tales to this history and give you the credit! Drop me a line...
Randy Anthony