---
Sock it to me, Santa!

Visit my other website, www.hipchristmas.com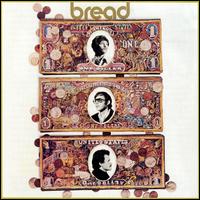 James Griffin must have been one pissed off guy. Over the course of six albums spanning the first half of the 70's, his group Bread scored twelve Top 40 singles, and not one of them was a Griffin composition. Only one of his songs ("Could I," 1969) was released as a 45, and it flopped unceremoniously. James Griffin wrote and sang fully half of Bread's songs (quite distinctively, I must insist), but now everyone thinks Bread was David Gates' band. True, Gates composed and warbled of all those hits, including "If," "Everything I Own," and "Guitar Man," and Griffin, at least, earned roughly equal royalties from the group's record sales. His songs and voice produced a rougher, more manly impression than Gates' sweet pop, but after a couple of Gates-helmed smashes (including "Make It With You," Bread's first hit and only #1), the die was cast. Griffin was relegated to the b-side of all subsequent singles, doomed to a supporting role in the soft rock juggernaut Bread would soon become became.
James Griffin's biggest individual success, in fact, was "For All We Know," a song he cowrote with fellow Bread player Robb Royer for the movie Lovers And Other Strangers (1970). The song won an Oscar, but it became a runaway smash hit (and perennial slow dance request) only when covered by that other pillar of 70's soft rock, the Carpenters. Jeez, Jimmy Griffin couldn't catch a break - even when he wrote a hit he didn't have a hit.... Regardless, one inescapable conclusion one draws from listening to Bread's records is that Griffin was - however unheralded - pretty damn good. His pithy, organic songs and his brusque tenor provided a refreshing counterpoint to Gates' doe-eyed melancholy. In a way, Griffin played Keith against Gates' Mick, ever the rocker (relatively speaking) in a band dominated by an unrepentant pop star.
Truth be told, James Griffin really was pissed off - for a while, at least. As Bread grew more successful, he sunk into substance abuse. When the band began to splinter, he sued the crap out of them to prevent them from carrying on as "David Gates & Bread." Ultimately, Griffin cleaned up and, by all accounts, was a prince of a guy - equally devoted to his friends, his family, and the music that sustained him. Moreover, he made peace with his unwilling role as second fiddle in one of the world's most famous bands. He even covered David Gates' "Everything I Own" - beautifully, I might add. But, I get ahead of myself....

Selected Bread Albums

Essential Bread Songs
Angel (David Gates, 1975)
Aubrey (1973)
Baby I'm-A Want You (1971)
Been Too Long On The Road (1970)
Blue Satin Pillow (1970)
Breakin' Up Is Easy (James Griffin, 1974)
Change Of Heart (1976)
The Chosen One (1976)
Daughter (1971)
Diary (1971)
Dismal Day (1969)
Down On My Knees (1971)
Everything I Own (1972)
Fancy Dancer (1972)
Father And Son (James Griffin, 1974)
Friends And Lovers (1969)
Games Of Magic (1971)
Goodbye Girl (David Gates, 1978)
The Guitar Man (1972)
He's A Good Lad (1971)
Hooked On You (1976)
How Do You Say Goodbye (James Griffin, 1975)
If (1971)
It Don't Matter To Me (1970)
Just Like Yesterday (1971)
Let Your Love Go (1971)
London Bridge (1969)
Look What You've Done (1970)
Lorilee (David Gates, 1973)
Lost Without Your Love (1976)
Make It By Yourself (1972)
Make It With You (1970)
Mother Freedom (1971)
Never Let Her Go (David Gates, 1975)
Part-Time Love (David Gates, 1975)
Sail Around The World (David Gates, 1973)
She Knows (James Griffin, 1974)
She's The Only One (1976)
Suite: Clouds, Rain (David Gates, 1973)
Sunday Rider (David Gates, 1973)
Sweet Surrender (1972)
Take Comfort (1971)
That's All I Need (James Griffin, 1975)
Too Much Love (1971)
Took The Last Train (David Gates, 1978)
Treat Her Right (James Griffin, 1975)
Truckin' (1971)
Why Do You Keep Me Waiting (1970)

The Bread Bookshelf

Bread On The Web

Feedback
Your witty comments, impertinent questions, helpful suggestions, and angry denials are altogether encouraged. Submit feedback via email; submissions will be edited and posted at my discretion.
August 27, 2006. I came upon your website by inquiring about what happened to the members of Bread. I am sorry to learn that two of the members have passed away. Although I was a young woman in the Seventies and listened to their music, I honestly didn't pay much attention to it and never bought one of their albums.
One day not long ago I was driving along listening to the radio, and the song "Make It With You" was playing. I was just overwhelmed by the beauty of the words as well as the music and delivery. I proceeded to find out who was singing this beautiful song and discovered it was Bread. I bought their album The Best Of Bread at the local Goodwill store.
As I played it, I remembered most of the songs, but I had never realized how beautiful they are. They are pure poetry, and the images are unbelievable. I am so glad I rediscovered such a talented group now that I am in my sixties. I was hoping a comeback would be possible. I enjoyed reading your article. Also, my twenty-year-old cousin loves their music. She also purchased a copy of The Best Of Bread at the Goodwill store. Mine will never end up there. I treasure it. - Jacqueline
[close]
November 19, 2005. Now that I have internet, I wanted to pass on thanks to David Gates and Bread for the music that will always be a part of my life. I am sad that some of them are already gone. Their music can be the spotlight or play forever in the background and never provoke any complaints. It is the music that's important. Please tell any or all survivors of Bread of my admiration. Thanks again. - Al DuVall
April 17, 2005. I just finished reading your wonderful article about Bread. I would like to say thanks, I feel it was a very honest assessment of the group. I must also say thanks for giving James the credit he deserved... kudos for doing that! It's heartbreaking that James passed before he had a chance to receive and enjoy the credit he was due.
My name is Holly Cieri, and I was a friend of James Griffin. I believed in him so much, words could never express what I feel about James as a musician and as a person! I'm a new artist trying to make my own mark on the music world. I could go into more detail about the "dream come true" of meeting James and recording a duet of For All We Know with him a few months before cancer cruelly took him away, but it's all on my website if you ever feel like checking it out - www.hollycieri.com.
My whole reason for wanting to work with James - beyond the obvious that I think he's a great (unsung) musician and a really sweet person - was I wanted to see him finally step out in front and get the recognition he deserved, as much as I wanted to see the start of my own career. That's how much he meant to me!

Reading your article made me smile, but it's bittersweet. It touched me to see someone who saw Bread in the way I always saw them. More important, someone who saw James' talent the way I saw it. Thanks again! - Holly Cieri