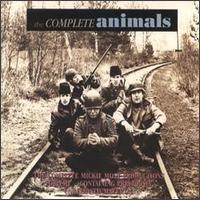 The Animals maintained a long and varied career but began as a hard-bitten rhythm and blues band out of Newcastle, England. It was during these formative years of 1964 to 1966 that the band cut their definitive material - as accomplished as peers like the Pretty Things or Them, and more original than the early Rolling Stones. In short order, the original Animals would splinter and descend into psychedelic self-parody. Before that happened, they transformed American blues into something authentically English.
Animals singer Eric Burdon evinced an uncanny empathy for the blues, and his disarmingly earnest, plebeian anger elevated the bands' ballads of disenfranchisement (very few of which they actually wrote) to anthemic heights. "House Of The Rising Sun," "Don't Let Me Be Misunderstood," "We Gotta Get Out Of This Place," and "It's My Life" are as good as anything the British Invasion yielded during that bountiful season. These were potent songs, powerful enough to inspire rockers as varied as Bruce Springsteen, David Johansen, Elvis Costello, Joe Cocker, Santa Esmerelda, Omar & The Howlers, and the Partridge Family (!) to cover them in years hence.
The Animals' early records were produced exclusively by pop auteur Mickie Most and consisted mainly of R&B covers, displaying a decided fondness for John Lee Hooker and Bo Diddley. They were really good covers, though, and the smattering of originals ("I'm Crying," "I'm Going To Change The World") bear witness to the rapidly developing songwriting talent of Burdon and bandmate Alan Price. These sessions produced two British albums - The Animals (1964) and Animal Tracks (1965), both included on a 2004 UK CD - and a host of singles, all gloriously documented on the imported The Complete Animals (EMI, 1990), two discs of pristinely restored mono masters.