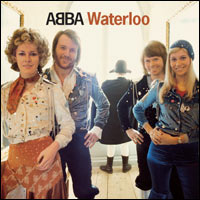 As an immensely pleasurable act of very little lasting significance, ABBA is a fine place to begin a discussion of 70's music. The group embodies so much of what made 70's music what it was - what, in fact, made the 70's "The Me Decade." ABBA were all about style over substance, good times rather than introspection, melody before meaning. Dismissed at the time as Swedish rock 'n' roll anti-christs, ABBA's influence in later years on dance music, power pop, and even alternative rock has become undeniable. Nearly 30 years after the band went their separate ways, the music of ABBA is arguably as popular as it has ever been and, certainly, more pervasive.
On the other hand, ABBA were quintessentially a singles band, and we shouldn't let rock critic and record geek revisionism (or media-driven nostalgia) convince us otherwise. The true legacy of ABBA is what's become known as Europop - white as white can be, vacuous, irresistible, catchy as hell - think Roxette, Ace Of Base, Kylie Minogue, or the Spice Girls. Horrific, for sure, and that's just scratching the surface.
It's just that ABBA did it first, and they did it very, very well. In its finest moments, the music of ABBA is the purest of pop - at once a towering achievement and an ephemeral self-indulgence, the very definition of a sublime pop experience. But no matter how they sound, songs like "Dancing Queen" and "Waterloo" feel delightful - and that's the point.