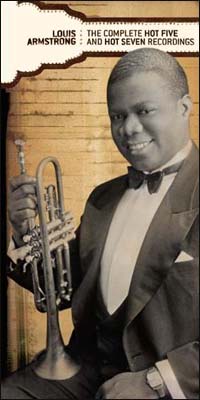 A logical place to start collecting jazz is with Louis Armstrong (1901-1971), since few people have had the impact that the great "Satchmo" has had on the genre. First off, Louis was an incredible trumpet (or cornet) player. None before and very few since have played as loud, as fast, as hard or as high as he could. Aside from his amazing virtuosity, Louis also created on his horn much of the vocabulary of this music we call jazz. As Miles Davis once said, "You can't play anything on the horn that Louis hasn't played." Secondly, Armstrong brought this incredible inventiveness to his singing as well as his playing. His phrasing and sensibility were brand new, and he inspired generations to follow. Whether he created "scat" singing is debatable, but he certainly made it his own. Thirdly, Armstrong helped take jazz out of the smoky New Orleans brothels and place it on concert stages around the world. As jazz's first and foremost ambassador, he fought prejudice not just against this unique new art form, but also his race. Ultimately, he triumphed, as much through his winning personality as his wonderful music. Louis' infectious, joyous attitude permeated his playing and his singing, converting millions in the process.
Satchmo recorded prolifically for nearly 50 years, and throughout his career he jumped from label to label, including Okeh, Columbia, Brunswick, RCA Victor, Decca, Commodore, Verve, Roulette, Kapp, Mercury, and ABC-Paramount. Plus, he recorded many songs in his repertoire multiple times. The result is a vast, dizzying legacy for collectors to sift through. There are hundreds - perhaps thousands - of Armstrong CD's on the market, even more so now that most of his recordings have entered the public domain outside the United States. Just about all of those albums overlap, and nearly every one contains some gems. So, where to start? That's not an easy question to answer....
Satchmo was born to a poor family in New Orleans, Louisiana, and he began playing professionally at a very young age. He didn't start recording till 1923, and in the beginning he blew his extraordinary, groundbreaking solos in bands like King Oliver's Creole Jazz Band and Clarence Williams' Blue Five. With Oliver, Armstrong waxed "Sugar Foot Stomp" which, when recorded again as "Dipper Mouth Blues," rose to #9 on the national charts in early 1924. (To confuse matters even further, King Oliver recorded another version of "Sugar Foot Stomp" in 1926 for Decca with the Dixie Syncopators - no Satchmo this time.)
"Dipper Mouth," by the way, was one of Armstrong's nicknames, as was "Satchel Mouth" which, as you might surmise, got shortened to "Satchmo." Later in life, people just called him "Pops" - inferring both respect and affection.